I declare Friday the 13th to be music Friday! Therefore, I'm going to talk to you about 13 songs. Pretty apropos, no?
I just wanna play my music.
Let's get this party started! First up is a song that is near and dear to my heart, Lady Gaga's "Hair."
I'm as free as my hair.
This seriously needs to be her next single. I mean, it's already peaked at #12 on the U.S. Billboard Hot 100 chart just as a promotional single. I think that the public would really connect with the anthem-like vibe found here. Plus...it's catchy!
Next up, "Want U Back," by Cher Lloyd featuring Astro.
Her noise? Turquoise
This post breakup ditty serves up some quirky fun. Cher is cute, but Astro? No thanks. I just don't like his flow and he seems way too young to really be taken seriously as a rapper. I heard a version without him and it's much better.
Girl rapper time! And no, it's not Nicki Minaj. Azealia Banks currently has a deal with MTV to push her new single, "Jumanji." Listeners can download it for free. :)
Follow the Jungle Beat
She may not be quite as manic as Nicki, but this girl can still bring it. After a brief harp intro, she hits hard over a hectic mix of hand claps, steel drums, and various synthesized noises. Slightly frantic, but it never gets to the level of a hot mess, so it's still worth a listen.
Owl City (mentioned
here
) featured Carly Rae Jepsen recently. The cuteness factor consequently soared on their track, "Good Time."
Makes me wanna go to the beach. :)
It's a fun little summer dance tune. "It's always a good time." That line says it all.
Speaking of fun little summer dance tunes, Madonna is set to release "Turn Up the Radio" as a single in August. She just barely released the artwork for it, which I'm guessing is from the music video shoot. How exciting for M fans!
Radio Madonna
Yeah, I'm pretty pleased by this news. I hope that it gets a worldwide release and an awesome video. I mentioned in my
review
of "MDNA," the latest album from her Madgesty, that this was one of my favorite songs from it and I'm sticking to that. Both the lyrics and the production are very carefree. This will sound great on the radio. :D
Another single turning heads is "Put It Down," by Brandy featuring Chris Brown. This serves as the second single from her upcoming album.
Comic Book Look
This turned my head, but not in the right way. I had a huge "WTF" moment the first time I heard it. First of all, the constant "I'mma put it down..." vocal sample is strangely robotic and annoying. Also, I'm not really feeling this whole mid-tempo vibe and the lyrics are pretty terrible. There are moments where way too many syllables are squeezed into one spot. Lastly, Breezy rapped here, when he's usually a singer. She should have either had him sing or gotten a real rapper. I love B-Rocka, so better luck to her next time.
One song that I've been in love with for some time is "Weightless," by Natasha Bedingfield.
Free as a spirit on a journey of hope.
This song has such a positive message. The instrumentation adds such a feeling of joy and lifts me up every time I hear it. It was apparently released as a single in the U.S. and Jamie Fox recorded additional vocals for it, but I guess nothing really ever came of it. I never heard it on the radio or saw it promoted anywhere and a music video was never produced (Believe me, I checked.). The American public may not appreciate you, NB, but I do. <3
An artist who hasn't been heard from in a long time is Fiona Apple. Well, she's back! About a month ago, she released the single, "Every Single Night." It was in support of her latest album, which has been shortened to "The Idler Wheel..." This is because the full title is a lengthy poem, much like a previous album of hers, "When the Pawn..."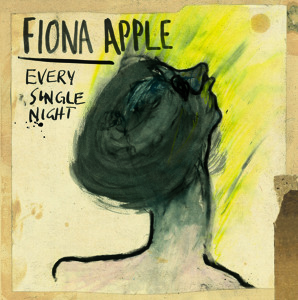 Artsy Fartsy
This song is cool and different, just like her. It starts out with an eerie music box vibe and grows into a chant of sorts. Fiona adds her signature voice to the mix, with its tired, angry tone. The lyrics speak of how she fights with her friends "every single night." I don't know if I love it, but it's interesting for sure.
Jennifer Lopez teamed up with Pitbull once again for her current single, "Dance Again."
Totally has nothing to do with the title of yesterday's post...
Never mind the obvious similarities to this duo's song from last year, "On the Floor," this song is a hot jam for sure. Makes me want to get up and dance! Staying true to its title, this track sees its performers delivering lyrics involving the desire to get back on the dance floor. J.lo may be leaving American Idol as a judge, but she can certainly still have a good time.
Next is one of my (many) "singles that got away," as I like to call them. "Yummy," by Gwen Stefani featuring Pharrell is about as catchy as they come.
I'm feelin' yummy head to toe.
This should have been a single back in the day! It was played in clubs and stuff, but that doesn't cut it for me. It was my favorite from her. The lyrics are ridiculous good fun and it's way dance-able. Plus, the end has an Inspector Gadget kind of quality about it. What's not to love?? I miss Gwen, but I won't have to for long. She and No Doubt are coming out with a new single to promote their upcoming album in a matter of days. You'll see it here, no doubt. ;)
My Chemical Romance made a great little song back in 2006 called "I Don't Love You."
Jack and Jill: Black and Ill
This is one of my favorite MCR songs. I like a lot of their stuff, but this one has a special place in my heart. It was a single in the U.K., but not here. It's ok though- it had a beautiful, symbolic video. Obviously, this song is about heartache and lead singer Gerard Way's emotive vocals add perfectly to that feeling. I love to hear his band mates back him up as well- they always kill it while shredding on the guitar, pounding on the drums, and thumping on the bass. Well done, My Chem.
3oh!3 (or as I like to call them, the male Ke$ha duo) came out with a new song entitled "You're Gonna Love This" just a few days ago.
myoh!me
Much like other artists mentioned here, this is in support of an upcoming album from these boys. This song is all about partying in both its lyrics and production, which does not surprise me at all. It's what we've all come to love and expect from 3oh!3 as a guilty pleasure. I can totally see this playing in a nightclub ...and I would totally dance to it, if that came to pass. XD
The Killers are also back in action. Just the other day, they came out with a new song. It is entitled "Runaways" and serves as the first single from their forthcoming album, "Battle Born."
Epic!
My final verdict on this song is...eh. I'm not really a big fan of their Springsteen/Americana sound. I find it to be kind of boring, if I'm being totally honest. I was hoping for their upbeat, techno-infused glam rock that I love so much. Oh well. Maybe next time.
If any of these intrigue you, you should totally look them up. You won't regret it. Happy Music Friday the 13th~
-The Jakers