Most people are less busy during the summer. For me, it was the opposite. I've been way busy with school, work, performing, etc. so I'm using this post to catch up on random stuff I've been wanting to say.
Gangstadorable
They Will Rock You
I had a rockin' good time at this movie! There were so many songs. A lot of them had to be consequentially put into medleys, but it actually worked out pretty well.
Join the revolution!
This movie had amazing dancing and cinematography. The acting and story line were a little lacking, but that's not what you go to a Step Up movie for. My favorite performance was the one with the fedoras. :)

"Billboard. I mean, I'm winnin, but I'm still bored." -Nicki Minaj being quite apropos.
Billboard Music Awards-
The biggest disappointment of the whole night was LMFAO winning best new artist. I mean, they're fun and everything, but...really? There were a lot of performances, which was pretty awesome. Some good, some...not so much. And it was hosted by actors from Modern Family! They were funny and charming as ever. :D
Other, less important award shows are as follows. MMA (in a strictly non mixed martial arts kind of way) aka Modern Music Awards, BET Awards, etc. For these award shows, I saw a picture of Katy Perry dressed as a giant butterfly and heard that there was a censorship fail, respectively, but I couldn't find them. Oh well.
Gleecap! I enjoyed the writing of the very end of the season the most and look forward to the next one. Also, I loved how they used non-single songs, such as Kelly Clarkson's "Cry" and Ke$ha's "Dinosaur."
Smash is a smash! I hate to say it, but I like it better than Glee (the comparison is obvious). It has more original music, better writing overall, and better acting. There were only a few moments from the season that I didn't like, so they're not even worth mentioning. Can't wait for the next season!
ABDC aka America's Best Dance Crew-
The best crew was eh. But I liked the return of the superstars theme. In case you didn't know what that is, it's where the crews dance to the songs of pop superstars. You should know by now that I'm always down for that kind of thing. haha
However, I must say that I was somewhat disappointed by the Rihanna episode. All the songs in it were from her most recent album, "Talk That Talk," which I have
previously mentioned
only has about two good songs. Said two songs ("We Found Love" and "Where Have You Been")
were
performed to, but the rest...eh. She has MUCH better songs! Oh well. Better luck next time, ABDC.
Perhaps the most appropriate, I watched these videos on my computer screen.
I Can Only Imagine -David Guetta featuring Chris Brown and Lil Wayne
Pretty sick. Which prompted me to watch:
He be rockin' them beats.
This documentary of the same name as his most recent album shed some light on the history of dance music and how David was involved with that. He worked long and hard to bring electronic music such as house, techno, trance, etc. into more mainstream forms of music such as pop and hip hop. The way he sees it (and I quite agree), everyone loves to dance, regardless of their style and background. Because of this, musical genres are now blended more than ever before through collaborations and I couldn't be more glad about it. Thanks Davey. :)
Duets~ I was disappointed by the winner. He was good, but my favorite didn't win. I auditioned for this show back in the day, but I don't think they even watched my video. Oh well, maybe next time. There was too much focus on the stars, rather than the "amateurs," whom the show was supposedly about. hmm...
SPICE GIRLS. They were awesome at the Olympics closing ceremony. In fact, they and One Direction were pretty much the only good parts. The rest was a hot mess. It made me want them to make new music! They are also coming out with a musical based on their songs called "Viva Forever," opening in December. Expect to hear more about that, music lovers.
Katy Kats: Claws Up!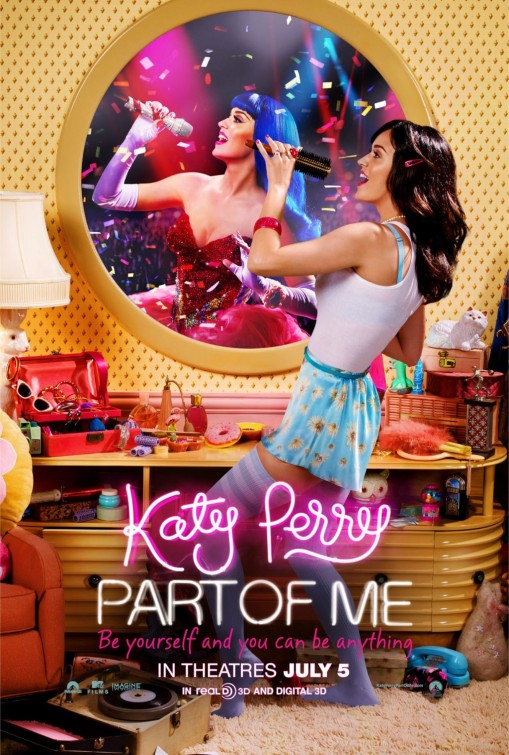 From hairbrush to headliner.
This movie chronicled Katy Perry's rise to fame, her life in the past year, and her recent tour. Having watched it, I now feel like I know her better and respect her even more as an artist. It was pretty inspiring as well. It made me think, "Maybe I could be a pop star one day!" The 3D was nice, because it made you feel like you were actually at her concert (I had to miss it back in the day as I was driving back from Oregon). And I loved how well the songs fit Katy's life. <3
K. That's all. Sorry that was so random and rapid-fire. I just had to get that all out of my system before I exploded. lol
-Jake